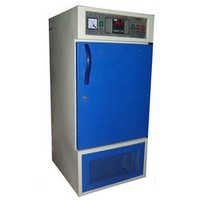 BOD INCUBATOR
Price And Quantity
Product Specifications
60 Kilograms (kg)

55 Centimeter (cm)
50 x 50 x 70 CM

55 Centimeter (cm)
Sliver & Blue

85 Centimeter (cm)
14 x 14 x 14 Millimeter (mm)

230 Volt (v)
220/230 Volt (v)

Stainless Steel
Product Description
Construction :-
Robust Construction. Outer cabinet is made of M.S. Sheet, duly pre treated & finished with enamel Spray paint for lasting finish. Inner chamber is made of high polished stainless steel 304 / aluminium (anodized). It has provision for allowing wide range of shelf positions & spacing. SS / Aluminium trays are also provided. Chamber is duly insulated to minimize heat loss.
Two door are provided. Outer door is insulated and is fitted with magnetic tape for air tight closing for no temperature loss. Door is provided with lock and key. Inner door is made of transparent acrylic glass for inspecting the specimens inside chamber, without opening the door and with minimum temperature loss. High Grade PUF Insulation between two walls to avoid temperature loss.
Temperature Control :-
The heart of the AS Systems B.O.D. Incubator is the excellent and reliable solid state temperature controller cum indicator digital display, range from 2oC to 65oC + 0.5oC. Hermetically sealed, high performance compressor works efficiently to lower the inside chamber temperature. Heating elements are placed in the path of moving air duly insulated from the body.
Cooling coils also lie in the air circulation path. Air is circulated by a double shaft self-cooled, blower to keep the temp, uniform throughout the inner chamber. A safety thermostat is provided, which switches off the heaters in the event of failure of the normal temp, control system to protect the specimens from excessive heat. Also fitted with door operated light for illumination inside the chamber. Caster wheel provided at bottom for easy mobility.
Control Panel :-
All controls and circuitry are housed at the top of the incubator and therefore protected from spillage. Separate indicator lamps for mains, heating and cooling are fitted. Microprocessor based PID temperature indicator cum controller is used for better result. A Voltmeter is provided on the panel to read the incoming voltage.
Salient Feature :-
AS Systems B.O.D. INCUBATOR switches from heating to cooling and vice versa irrespective of the ambient temperature because of its unique design and thus is capable of working without any user intervention. Supplied complete with 3 shelves of anodized Aluminium or Stainless Steel as per the chamber, cord and plug, to work on 220 Volts, 1 Phase, 50 Hz, AC supply. Interior illumination with 4 Nos. fluorescent tubes. Automatic cyclic timer 0-24 hrs to regulating illumination cycle. In built voltage stabilizer to avoid accidental damage due to power fluctuation.
Optional Accessories :-
Arrangement for Incubation of CO2 / Air mixer.
CO2 Cylinder 9 liters.
Air compressor.
Shaking Platform to use as Incubator shaker
Humidity Control arrangement 55%RH to 95%RH with digital humidity Controller cum Indicator
Available sizes. :
MODEL INNER CHAMBER SIZE ( W X D X H ) CAPACITY VOLUME
4040-2.4 405 X 405 X 405 mm ( Bench Top Model ) 2.4 Cu.Ft. 65 Liters
4040-4.0 455 X 410 X 610 mm 4.0 Cu.Ft. 112 Liters
4040-6.1 405 X 415 X 830 mm 6.1 Cu.Ft. 171 Liters
4040-10.0 570 X 550 X 875 mm 10.0 Cu.Ft. 280 Liters
4040-12.0 650 X 580 X 900 mm 12.0 Cu.Ft. 336 Liters
4040-15.0 700 X 640 X 900 mm 15.0 Cu.Ft. 420 Liters
4040-21.8 700 X 800 X 1100 mm 21.8 Cu.Ft. 616 Liters
Trade Information
Sample costs shipping and taxes has to be paid by the buyer

All India